December 20
December 20
SHEEP: My Lord, my God, you are full of love and kindness, slow to anger and abounding in mercy and grace. You Lord, are the glory of your unspeakable love. You give yourself wholly to me. Because of that, I give myself to you with all my heart and strength. You are always near me and within me. I can talk to you every moment of every day about my needs.
GOD'S WORD" 1 Thess. 3:8 "Because now we [really] live, if you stand [firm] in the Lord.
SHEEP: My prayers should be like breathing with a total dependency upon you. You are always near with your unending, abounding grace and as your child, when I am weak, I can call on you. I will seek you with all my heart and strength.
GOD'S WORD: 2 Chro. 15:15 "And all Judah rejoiced at the oath, for they had sworn with all their heart and sought Him [yearning for Him] with their whole desire, and He was found by them. And the Lord gave them rest and peace round about.
Amen.
Romans 5:17 "For if by one man's trespasses, death reigned through the one, much more those who receive abundance of grace and of the gift of righteousness will reign in life through the one Jesus Christ."
ADAM'S ACT
Was an offense/astray
Results in condemnation/death
Characterized by disobedience
JESUS' ACT
Offers us grace
Results in justification/life
Characterized by obedience and faith.
More Conversations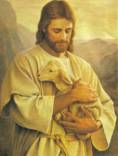 Send This Page to a Friend