December 16
December 16
GOD'S WORD: Psalm 54 1SAVE ME, O God, by Your name; judge and vindicate me by Your mighty strength and power.
Hear my pleading and my prayer, O God; give ear to the words of my mouth. For strangers and insolent men are rising up against me, and violent men and ruthless ones seek and demand my life; they do not set God before them. Selah [pause, and calmly think of that]!
Behold, God is my helper and ally; the Lord is my upholder and is with them who uphold my life.
He will pay back evil to my enemies; in Your faithfulness [Lord] put an end to them. 6With a freewill offering I will sacrifice to You; I will give thanks and praise Your name, O Lord, for it is good. 7For He has delivered me out of every trouble, and my eye has looked [in triumph] on my enemies."
SHEEP: I take this Psalm as Your Promise to me. You will destroy the enemies that have come against my body. They were defeated at the Cross.
Everything about me is a concern to you You have paid the price and the enemy of my life is defeated! They have no right. Thank You Jesus It's all for Your Glory.
You are the Reigning King in my life and I praise you. Thank You , Jesus. My life is in your hands. Amen.
GOD'S WORD: 1 Corinthians 13
What is love?
Love suffers long and is kind; love does not envy; love does not parade itself, is not puffed up; 5 does not behave rudely, does not seek its own, is not provoked, thinks no evil; 6 does not rejoice in iniquity, but rejoices in the truth; 7 bears all things, believes all things, hopes all things, endures all things. 8 Love never fails"
SHEEP: Vr.4 a. Proverbs 10:12, 17:9; b. Eph. 4:32; c.Gal 5:26; 1 arrogant; 1Cor.14:1.
Hatred stirs up strife, but love covers all sins. He who covers a sin seeks love.
Be kind and forgive as Christ did.
Let's not be conceited, provoking and envying one another. *desire
zealous for Vs. a. 1 Cor.10:24;1 keeps no account of evil *Romans 4:3
Seek the other's well-being
*value well the individual
.6 a. Romans 1:32; b.2 John 4; *John 4:24
rejoice for those walking in the truth*- sincerity and accuracy Vrs.7 a. Romans 6:2;*Matt.24:13
Bear one another's burdens
Endures – stand firm to the end!
More Conversations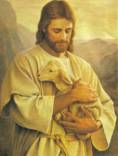 Send This Page to a Friend