December 14
December 14
SHEEP: OUR LIFE WITH CHRIST BEGINS IN FAITH AND CONTINUES IN FAITH.
GOD'S WORD: Lev. 9:2, "You shall be Holy, for I the Lord Your God am Holy."
SHEEP: Being made holy is not accomplished by doing good things. The more faithful we become a step further is taken. We desire to "see His face", walk in His light and rejoice in Him – abide in His Presence.
This abiding cannot help but have an influence on our character.
We find ourselves wanting to do everything in His Name. We realize we've been bought with His blood and we belong to Him. It's all about Him!
GOD'S WORD: 2 Cor. 3:18, ". we all with unveiled faces, beholding as in a mirror the glory of the Lord", are being transformed from glory to glory just as by the Spirit of the Lord (or from the Lord, the Spirit.)
SHEEP: "beholding as in a mirror" implies "reflecting" as well as "looking into".
As we look at "glory of the Lord", we are continually transformed. We reflect what we behold.
It comes from a relationship with Him – obedience and abiding in Him definitely has an influence on our character and appearance
Jesus said, in Matthew 5:8 "Blessed are the pure in heart, for they shall see God." As we continue in His Holiness Matthew 6:10 becomes our prayer. "Your kingdom come, your will be done on earth, as it is in heaven."
More Conversations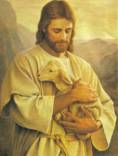 Send This Page to a Friend