December 11
December 11
SHEEP:" Seek the things that are of Christ Jesus –become a man or woman "after God's own heart". Make knowing Christ their goal. Press toward the mark of knowing Christ.
GOD'S WORD: Philippians 1:6 "He who has begun a (a) good* work in you will complete it until the day of Jesus Christ.
John 6:29 – A WORK OF God Is that you believe in Him that God sent good- in a physical and moral sense – attractiveness, excellence, produce benefits
Matthew 6:33 "Seek ye first the Kingdom of God and all these things will be added to you – having a * life that now is and yet to come. *life – grace now and future glory.
Continue in the grace and faith of God – love Him and others –triumph over evil.
More Conversations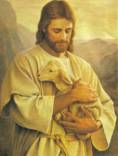 Send This Page to a Friend