December 4
December 4
GOD'S WORD: Mark 12:30-31 "Love the Lord your God with all your heart and with all your soul and with all your mind and with all your strength. The second is this: 'Love your neighbor as yourself. There is no commandment greater than these."
SHEEP: Love God:
With all my heart – all it's longings, affections, desires
With all my soul – vital power, the will be its master
With all my mind –thoughts, reasoning, power of memory and imaginations
With all my strength – sacrifice of everything and putting my endeavors for Christ and Him alone – to love and serve Him perfectly. In my prayer life I want to be strengthened with all might to call upon God each day. I earnestly desire an answer to my prayers and to approach with boldness the Throne of Grace and I can't do that in my own strength.
You have made us to show forth Your Glory. Work in my heart what you have promised in this command. By Your Spirit, pour out Your Love in my heart.
I want to see and experience Your Glory not only in my own life but the lives of all the ones You have given me to love. I want to see the wonder of Your Sprit move and touch and change lives. I'm not too old. Did not Moses being at 80? I'm only 73. My strength can't do it. It's only by Your Spirit.
Later in the day as I sat quietly before the Lord I heard Prepare the way of the Lord.
GOD'S WORD: Luke 1:76 And you, my child, will be called a prophet of the Most High; for you will go on before the Lord to prepare the way for him Ezekiel 29:21 (a) On that day I will make a horn (b)grow for the house of Israel, and I will open your mouth among them. Then they will know that I am the LORD."
SHEEP: a. Ezekiel 29:21 Horn here symbolizes strength
Cause the house of (Carlson)to spring forth and open the mouths of (Neal and Nancy) to speak. Then people will know He is the Lord. Psalm 92:10-15 - strength an anointing, bear fruit at old age 1 Samuel 2:10 –Adversaries of the Lord will be broken – strength given God's anointed He is coming to a people who will in (a)contriteness of heart, confess their faults, seeing His glory manifested in their lives. Praise Him for His mercy and faithfulness that never gives up on us!
Contriteness of heart – Matt. 3:2-3
Renounce and change
Submission and teachable
Continue to be shaped by Him. He's the potter, we're the clay.
There is no growth without obeying the Lord's commands in a child like response. We must be willing to accept the correction and guidance of the Holy Spirit. Do we truly understand what it means to be born of the Spirit., He wants our hearts not just verbal allegiance. He desires our affections, to be wholly His, which will require discipline.
1. Daily ask Him to search your heart – Psalm 139:23-24
2. Give time to be still Psalm 131:2
3. Meditate on the Word Psalm 119:23,24
4. Memorize the Word. Psalm 119:11
5. Praise Him Ps. 107:22 Heb. 13:15
The sacrifices of praise often require us to deaden our fear, pride or anything else that interferes with the worship of God.
It is by Him, in Him, with Him and to Him that we offer this praise. Keep Him as the focus - - the cross and His blood.
Phil. 2:13 "for it is God who works in you to will and to act according to his good purpose.
Phil. 3:7-15 "But whatever was to my profit I now consider loss for the sake of Christ. What is more, I consider everything a loss compared to the surpassing greatness of knowing Christ Jesus my Lord, for whose sake I have lost all things. I consider them rubbish, that I may gain Christ and be found in him, not having a righteousness of my own that comes from the law, but that which is through faith in Christ—the righteousness that comes from God and is by faith. I want to know Christ and the power of his resurrection and the fellowship of sharing in his sufferings, becoming like him in his death, and so, somehow, to attain to the resurrection from the dead.
Pressing on Toward the Goal
Not that I have already obtained all this, or have already been made perfect, but I press on to take hold of that for which Christ Jesus took hold of me. Brothers, I do not consider myself yet to have taken hold of it. But one thing I do: Forgetting what is behind and straining toward what is ahead, I press on toward the goal to win the prize for which God has called me heavenward in Christ Jesus.
All of us who are mature should take such a view of things. And if on some point you think differently, that too God will make clear to you.
More Conversations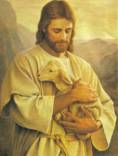 Send This Page to a Friend