August 20
August 20
GOD'S WORD: Jeremiah 29:11-14 " For I know the thoughts and plans that I have for you, says the Lord, thoughts and plans for welfare and peace and not for evil, to give you hope in your final outcome.
Then you will call upon Me, and you will come and pray to Me, and I will hear and heed you. Then you will seek Me, inquire for, and require Me [as a vital necessity] and find Me when you search for Me with all your heart. I will be found by you, says the Lord, and I will release you from captivity and gather you from all the nations and all the places to which I have driven you, says the Lord, and I will bring you back to the place from which I caused you to be carried away captive.
SHEEP: God's plans for me are for good and to have peace. I will call and search for Him – He will hear and heed. My calling shall be of vital necessity –He will be found! I will be released. Heed: pay attention to, take notice of.
More Conversations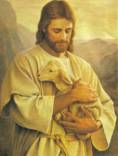 Send This Page to a Friend