August 8
August 8
SHEPHERD: I know of your love for Me and because of that love, I will be able to accomplish much in, through and about you - by My Spirit. New days are here - slowly, steadily, step by step, I will lead you.
Expect to see changes in Neal. He too will come as I am calling and you will be astounded by how quickly he takes hold.
Consider no more the "condition" of your body. I am at work in everything that concerns you. Joy! Joy! Joy! Abounds! You'll see!
MY VICTORY FOR MY GLORY!
More Conversations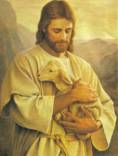 Send This Page to a Friend