August 5
August 5
SHEEP: God's Presence distinguishes us from the world.
Immediate and continuous inspiration in our lives is needed and made possible by the Holy Spirit. He brings about the redeeming Christ within our inner selves. May this be our aim in life and a reality.
We must be zealous for God in holiness. We are to be set apart for Him and His purpose in everything we do and think and act. All glory belongs to Him. It is He who makes us, not we ourselves.
More Conversations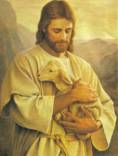 Send This Page to a Friend