August 4
August 4
SHEEP: The continual inspiration of God – our only power of goodness – is our birthright and must be our expectation if we are to live out God's will. The Holy Spirit waits in every detail to fill our life all the day with the love of God. Therefore, the continued operation of the Holy Spirit is the one and only possible ground of loving God continually.
Nothing in our lives has any meaning unless it is the work of the Holy Spirit. Without Christ we can do nothing. Therefore, we ought to believe, expect, wait for and depend upon the Holy Spirit in everything we do.
My prayer is for the full experience of what the Holy Spirit is meant to be in me.
SHEPHERD: You don't have to do anything. Just yield yourself to Me in child like trust. I'll do the rest. Hold on with expectancy of the new and good I have for you. My Son will be the glory of your life. His glory will shine in and about you and people will know it is truly My work. I will be known and revered through what I choose to work in and through my children. It is My work and not yours – from beginning to the end when the fruit of it will be revealed in My chosen ones lives. Amen.
SHEEP: I yield myself to You, Lord in simple child like faith. I look expectantly for the joy that is before me, keeping my eyes on You, the Author and Finisher of my faith.
More Conversations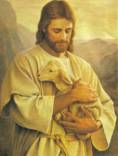 Send This Page to a Friend