August 2
August 2
SHEPHERD: I will instruct you, teach, and guide you with My eye upon you. I will!
Prepare yourself for the new days before you. The days I prepared for you before the foundation of the world. Joy will be yours - joy of a fully given heart to Me and others You'll see! My hand is not shortened concerning you. Nothing I have done or will do is for naught.. I am the Master Craftsman of your life.
I take great pride in My chosen ones as they yield themselves to me. Joy! Joy! Joy! Joy! My joy – the joy of Your Master. Be prepared. Listen carefully, watchfully. Listen for My still small voice. I will guide you all the way.
You will be fit" for this time in every sense of the word. Trust Me in all things. I will show you what to do – guide you in every aspect of your life. You become my responsibility as you yield yourself to me.
GOD'S WORD: Matthew 6:33 "Seek ye first the Kingdom of God (God's way, will and work) and His righteousness (His way of doing and being right).
1 Kings 3:14 Be disciplined – body, soul, spirit
Luke 12:31 Single hearted devotion to Christ
1 Tim. 4: Christ with an attitude of freedom from anxiety over daily needs – it is unnecessary and unbecoming.
Our total dependency on God alone. Divine goodness is the goodness of God plainly manifesting itself in His children. Our true religion is giving ourselves to God all that is His. Everything we have and are is in Him and Him alone with total dependence on Him. Nothing can be better than the power and presence of God living and working in us by His Holy Spirit.
More Conversations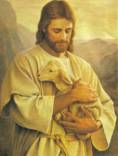 Send This Page to a Friend