Arise
April 24
GOD'S WORD: Isaiah 60:1 "ARISE [from the depression and prostration in which circumstances have kept you--rise to a new life]! Shine (be radiant with the glory of the Lord), for your light has come, and the glory of the Lord has risen upon you! Lift up your eyes round about you and see! They all gather themselves together; they come to you. Your sons shall come from afar, and your daughters shall be carried and nursed in the arms."
Zechariah 8:23 "Thus says the Lord of hosts: In those days ten men out of all languages of the nations shall take hold of the robe of him who is a Jew, saying, Let us go with you, for we have heard that God is with you."
SHEEP: People will know God is with us as well as our children and they will come! We will joy at the deliverance all because of God's glory upon us!
GOD'S WORD: Isaiah 59:1 BEHOLD, THE Lord's hand is not shortened at all, that it cannot save, nor His ear dull with deafness, that it cannot hear.
Isaiah 61:1 "THE SPIRIT of the Lord God is upon me, because the Lord has anointed and qualified me to preach the Gospel of good tidings to the meek, the poor, and afflicted; He has sent me to bind up and heal the brokenhearted, to proclaim liberty to the [physical and spiritual] captives and the opening of the prison and of the eyes to those who are bound"
SHEEP: God is longing for us to claim our promises and exercise our right as members of a royal priesthood.
GOD'S WORD: 1 Peter 2:9 "But you are a chosen race, a royal priesthood, a dedicated nation, [God's] own[a]purchased, special people, that you may set forth the wonderful deeds and display the virtues and perfections of Him Who called you out of darkness into His marvelous light."
SHEEP: The object of our life is to be used by the Holy Spirit, separating ourselves from sin and devoting to the work of saving and helping others. Our chief objective is to be a witness for Jesus and to win others to Him, to serve Him, and in love pray for all people.
We are to respond to circumstances in our lives with trust. Rest in Him knowing He reigns! Be still with Him and not reason in our minds.
My prayer: I love You, Lord. I love You! How wonderful Your ways are with us. I trust You and I will not lean unto my own understanding! I will not! I can't say it enough, I love You!
Humbly I thank You for first loving me. I'm Yours – You gave Your life for me. Because of that I am free. I have victory. I can -
Arise and shine for Your Light has come and Your Glory has risen upon me.
Be is unto me as You have spoken it. It was finished at Calvary! I look for it expectantly! I remember the appointment desk in a dream from You which signified an appointed time. Expectantly I wait for it with Joy.
GOD'S WORD: Isaiah 30:15, "For thus said the Lord God, the Holy One of Israel: In returning [to Me] and resting [in Me] you shall be saved; in quietness and in [trusting] confidence shall be your strength. But you would not."
Isaiah 40:31, "But those who wait for the Lord [who expect, look for, and hope in Him] shall change and renew their strength and power; they shall lift their wings and mount up [close to God] as eagles [mount up to the sun]; they shall run and not be weary, they shall walk and not faint or become tired."
Job 17:9, "Yet shall the righteous (those upright and in right standing with God) hold to their ways, and he who has clean hands shall grow stronger and stronger."
2 Corinthians 4:8-10,16 "We are hedged in (pressed) on every side [troubled and oppressed in every way], but not cramped or crushed; we suffer embarrassments and are perplexed and unable to find a way out, but not driven to despair; 9 We are pursued (persecuted and hard driven), but not deserted [to stand alone]; we are struck down to the ground, but never struck out and destroyed.
Always carrying about in the body the liability and exposure to the same putting to death that the Lord Jesus suffered, so that the [[a]resurrection] life of Jesus also may be shown forth by and in our bodies. Therefore we do not become discouraged (utterly spiritless, exhausted, and wearied out through fear). Though our outer man is [progressively] decaying and wasting away, yet our inner self is being [progressively] renewed day after day.
More Conversations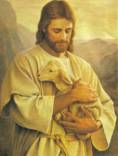 Send This Page to a Friend