In Simplicity and Trust I Have Called You
April 21
SHEPHERD: My children have a need of coming to an end of themselves to a new and fresh beginning in Me with the power of My Spirit. That is why you are seeing so many people facing challenging circumstances so they would do just that very thing – let go and let Me!
You've been created to be dependent on Me. My Son did nothing until I told Him what to do. The same is for My other children – My chosen ones even before the foundation of the world.
New days are before you, but you will have a remembrance of these days when you couldn't even move without Me. I am your strength in everything. Look to me. Cry out to Me. Seek My face. My direction is the path I have for you.
The morning of joy is before you. Live in expectancy of this. I WILL NOT FAIL YOU – You'll see! Nothing is required of you – I am bringing it about,. not only in you but your loved ones as well. It is time for My glory to be seen. It is time to experience the strength of My power for you and in you.
Again I say, nothing has been for naught. You'll see and experience everything I told you. I am seeking to do a complete turnabout in the lives of My children who are ready for it. Look expectantly for the unveiling of it all.
The way you felt before I gave you these words is the way it is without depending upon Me – a helplessness and inability - the harder you try in your own strength, the worst it becomes!
It is My plans that will prevail in the lives of My children – a place they've never dreamed about or ever thought of!
SHEEP: LATER: I was feeling extremely weak. I could hardly walk. I began talking to the Lord. This is what I said: What is it that You want of me? I say that with respect. Am I to ask You in everything I do - like doing my painting or crafts?
SHEPHERD: When You come to Me in the early hours, ask what I would have you do. This is the first step. In all things inquire of me until it becomes a habit. I want you to develop a habit of coming to me always , for all things. Later, you will start your day with inquiring of Me and I will expect you to listen for My still small voice, throughout the day.
Develop a habit of - in all ways and all things seek My face. Don't assume anything. What we are doing now is preparing you for something you'll understand, later.
Remember, My power will be seen in your weakness. Then My power will be seen moving for and in you. I know how you are questioning whether this is coming from Me or are you writing it, making it up. You'll have to trust Me in this for it is a part of what I'm doing for you.
You will eventually come to a place where you will doubt no longer for you will know what you know what you KNOW. I use the foolish things, the simple things to confound the wise!!!!!
Walking with Me and talking with Me will become so natural, you won't have to question if it's from Me or not!
REMEMBER: IN SIMPLICITY AND TRUST I HAVE CALLED YOU - IN SIMPLICITY AND TRUST YOU WILL COME!!!!!
The more time you spend with Me, the more you'll learn. Take no condemnation for your creative times. I'm not here to condemn you but to bring life more abundantly to you..
Rest in knowing – I am well pleased with you. You are simply going to school, only the time will be spent at My feet. The oftener you come the quicker you'll finish the coarse I have set for you now. Remember, new days are before you – days when you'll experience My glory.
One day one hour, one moment at a time. - I'm in no hurry, It's always up to My children as to how much and how soon. I know this by their obedience, their desire and willingness to come as I am calling them.
Rest in arms of love even during the times of creating – simply sit back and rest in the reality of My Presence that is always with you. I'm writing a book through you etching it upon your heart, which will bring life to those about you. This is My time with you and your time with me. Don't worry about what is happening to you personally, KNOW THAT I AM IN CONTROL! THE GATES OF HELL WILL NOT, ABSOLUTELY NOT PREVAIL regardless of how it feels or what you are experiencing. It's what you know and believe is TRUTH. My truth will prevail. Use the authority that is yours and say NO MORE!
SHEEP: MY GOD REIGNS. I HAVE VICTORY IN HIM. HE IS MY SOURCE AND MY LIFE. AMEN AND AMEN.
SHEPHERD: You and I are in this together. I am your teacher and you will come forth with a KNOWING THAT NO ONE CAN TAKE FROM YOU! NO MORE WEEPING. IT'S TIME FOR THE JOY THAT IS IN YOU TO BE SEEN – THAT JOY OF A FULLY GIVEN HEART TO ME AND THEN TO OTHERS!
More Conversations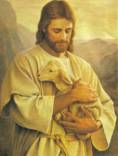 Send This Page to a Friend