Grace Grace Grace
April 18
SHEEP: Grace, Grace and More Grace I will bring My righteousness (in the deliverance of Nancy), it will not be far off.
May You, Lord, work Your perfect work with me, in me and through me that others can be lifted up knowing that my God is the ONE TRUE GOD. You have designed me to need You day by day, moment by moment so I won't fall into self sufficiency. You can meet every one of my needs. I can approach Your Throne of grace with confidence and trust receiving Your peace with thankfulness.
GOD'S WORD: Ephesians 4:6-7,13, "One God and Father of [us] all, Who is above all [Sovereign over all], pervading all and [living] in [us] all. Yet grace (God's unmerited favor) was given to each of us individually [not indiscriminately, but in different ways] in proportion to the measure of Christ's [rich and bounteous] gift. [That it might develop] until we all attain oneness in the faith and in the comprehension of the [full and accurate] knowledge of the Son of God, that [we might arrive] at really mature manhood (the completeness of personality which is nothing less than the standard height of Christ's own perfection), the measure of the stature of the fullness of the Christ and the completeness found in Him."
SHEEP: We enter rest by believing and trusting.
GOD'S WORD: Hebrews 4:16 "I died with Christ and I die daily to sin and self and the world to make room for the increase of the life of Christ that lives in me".
The fullness of God lives in me – I receive this fullness by GRACE. Christ lives in me and works in me that which is pleasing to the Father.
GOD'S WORD: John 1:14,16 "And the Word (Christ) became flesh (human, incarnate) and tabernacled (fixed His tent of flesh, lived awhile) among us; and we [actually] saw His glory (His honor, His majesty), such glory as an only begotten son receives from his father, full of grace (favor, loving-kindness) and truth. 16 For out of His fullness (abundance) we have all received [all had a share and we were all supplied with] one grace after another and spiritual blessing upon spiritual blessing and even favor upon favor and gift [heaped] upon gift."
SHEEP: It is God's will that Christ should fill all things, even my heart and it's needs. Then my heart will be humble and constant with God in fellowship of His holiness and love.
More Conversations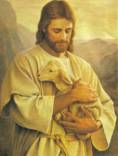 Send This Page to a Friend