Calling Cards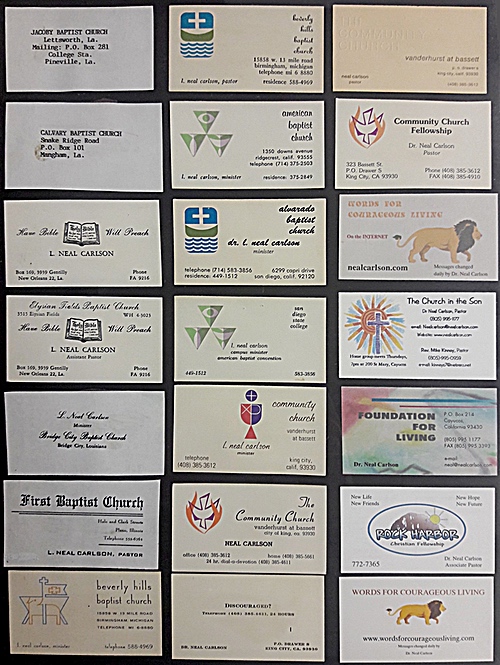 Pastor Neal has shepherded a series of congregations in his 64 years of ministry. Being called to ministry has resulted in a number of "Calling Cards."
Some of these "Calling Cards." have stories behind them. We've gathered them for you to enjoy. Click on each card to view.
Neal Carlson lived with his wife Nancy, of 53½ years Between 2,000 and 2013 they lived in a small seacoast town in Central California, USA called Cayucos. After his wife "graduated" to Heaven (August, 2013) he now lives 5 miles south in a small sea coast town called Morro Bay, California. The town is located on Hwy 1 roughly half way between San Francisco and Los Angeles. Calif. USA.
He was born in Memphis, Tennessee, April 27, 1934 and at age 9 moved with his parents to the southern state of Louisiana where he was raised in the city of Shreveport. He graduated from Byrd High School there in 1952.
He holds a B.A. degree from Louisiana College (1956), a Master of Divinity from the New Orleans Baptist Theological Seminary (1960) and a Doctorate from California Graduate School of Theology (1971).
At age 19 he responded to the call from God to the ministry and within months was called to his first church as pastor, the Jacoby Baptist Church, Lettsworth, Louisiana. He celebrated 50 years in the ministry, April, 2003.
Dr. Neal Carlson, 2017