THOMAS
(Didymus" or "the twin")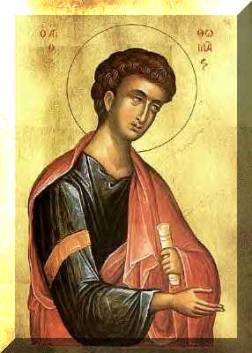 Family:
Thomas was born in the city of Antioch.  He was of the house of Asher.
Little is known of him, yet Thomas, for some, is the most fascinating of the twelve.
Scripture background:
Matthew 10:3;  Mark 3:18;  Luke 6:15  Acts 1:13
Questions asked:
John 14:5  "Thomas said to him, 'Lord, we don't know where you are going so how can we know the way?'"
Scriptural stories:
John 11:16 – where Thomas wants to go with Jesus in regard to the death of Lazarus.
John 14:5  - where Jesus is comforting the disciples and Thomas asks his question (above).
John 20:24-29 – where Jesus appears to the disciples and Thomas is not there.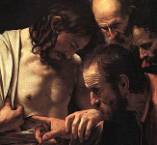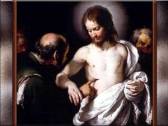 Place of service:
India, Syria, Persia, Parthia
Place and manner of death:
India
46A.D.
There are 3 different accounts of his death.
(1) shot by arrows and left to die, but a priest runs a spear through him.
(2) speared
(3) burned in a furnace
Interesting facts:
There is a book called: "The Acts of Thomas"
Another one, "Revelation of Thomas".
The phrase, "Doubting Thomas" comes from his doubting the Lord in the upper room.
Traditional comments:
He distant himself from the disciples
Legend has it that Lysia was his twin sister.
Shields and emblems:

Thomas died when he was shot with arrows, stoned and left to die. A priest then ran a spear through him.