BARTHOLOMEW
The name literally means "son of Tolmai"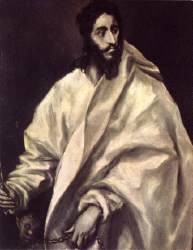 Family:
He was of the house of Naphtali.  His name was formerly John but our Lord changed it because of John the son of Zebedee, "His Beloved"  Jerome, the historian suggests that Bartholomew was the only one of the 12 to be of noble birth, since his name means son of Tolmai, or possibly son of Talmai (2 Samuel 3:3).  There is mention of a King of Geshur.  If this is true he was nothing less than royal linage.  His name has also been connected with Ptoleny and he was said to be called son of Ptolemy.  There were kings of Egypt and it was said that Bartholomew was connected with the royal house of Egypt.  If this is so, he certainly lived in perfect fellowship with the humble fishermen of Galilee.
Since the 9th century, onward, Bartholomew has generally been identified with Nathanael.  But this view has not been conclusively established  Nathaenael means "God given."
Scripture background:
Mentioned as one of the 12 in Matthew 10:3, Mark 3:18, Luke 6:14 and Acts 1:13.He is in the list of the 12 in the first 3 Gospels and in Acts, the names of Philip and Bartholomew always occur together. In the 4th Gospel we learn that it was Philip who brought Nathanael to Jesus (John 11:45)  This has led many to believe that Bartholomew and Nathanael are the same persons.
Nathanael is never mentioned by the first 3 Gospels and Bartholomew is never mentioned by John, who further implies that Nathanel was one of the 12 disciples.  Note.  Philip is closely associated with Bartholomew and in John with Nathanael.  Some of the Apostles went by 2 names, remember.).
Questions asked:
John 1:46.  "Nazareth!  Can anything good come from there? Nathaniel asked.  This shows that he was well versed in the Scriptures.  He knew the ill repute of the place and its petty insignificance and familiarity.
John 1:48 "How do you know me" Nathaniel asked.
Scriptural stories:
John 1:43-50 – The call of Philip and Nathanael
Place of service:
The country of India.  After India he sent to the north-west part of Africa.  In Armenia he served for 16 years.
In modern Iran Christian leaders agree as to the first century ministry of St. Bartholomew.  They state that: "The traditional founders of the Armenian Church were the apostles Thaddeus and Bartholomew."
Place and manner of death:
Bartholomew was martyred at Albana near Armenia – which is the Soviet Union today.
The acts of Philip tells how Philip and Bartholomew preached in Hierapolis and how Philip Was martyred by being pierced through the thighs and hung upside down.  Bartholomew, however, escaped martyrdom at that place.
It is said that he was placed in a sack and cast in the sea.  Another tradition is that he healed a king's daughter who was a "lunatic" and he exposed the emptiness of the king's idol.  The king and many others were baptized, but the priests and the king's brother Astyages remained hostile.  They arrested Bartholomew, beat him and eventually crucified him.
Another variance – he was flayed alive in Albanapolis, Armenia.
Interesting facts:
His bones are widely scattered today – many places laying claim to that fact.
Traditional comments:
In the Armenia Church, which claims him to be the founder there is a description of his person.  "He has black, curly hair, white skin, large eyes, straight nose.  His hair covers his ears, his beard long and grizzled and he is of middle height,.  He wears a white robe with a purple stripe and a white cloak with four purple gems at the corners.  For 26 years he has worn these, and they never grow old.  His shoes lasted 26 years.  He prays 100 times a day and a 100 times at night.  His voice is like a trumpet.  Angels wait upon him. He is always cheerful and knows all languages."
Shields and Emblems:

According to tradition, Bartholomew was flayed alive, crucified and then beheaded.