ANDREW
Family:
His father's name was John (Jonah)  He was brother to Simon Peter.  Bible calls him the son of a woman, Joanna.  He was from the city of Bethsaida.
His call is significant, for the lead that he gives determines the action of the others.
He was the first disciple to follow Jesus, yet never mentioned first. He lived in the shadow.  Yet, it was Andrew that discovered Jesus and for once he was first.
The stages of his call are 3.  First, early – he was a fisherman.
He was with John the Baptist when John declared Jesus to be the son of God.  Andrew brings his brother to Jesus.  Second stage – After John the Baptist is put in prison (Mark 1:16-18.  Third stage – after a companionship with Jesus, his call is in concrete.
Scripture background:
Matt. 10:2-4;   Mark 3:16-19;  Luke 6:12-19;  Acts 1:13.
Questions asked:
Mark 13:4  "…when will these things happen? And what will be the sign that they are all about to be fulfilled?"
John 6:9 "Andrew, Simon Peter's brother spoke up, 'Here is a boy with five small barley loaves and two small fish, but how far will they go among so many?"
Scriptural stories:
Mark 12:16-18 – called when fishing
John 1:40-41 – Andrew finds his brother and tells about Jesus
John 6:8 – tells Jesus about the boy with the loaves and fishes
John 12:22 – tells Jesus there are some Greeks who have come to worship
Mark 1:29 – Jesus comes to his house when Simon's mother in law was ill
Mark 13:3,4 – asks Jesus about the end of the world.
Place of service:
Today's area would be Iran, Turkey, Ephesus, Russia and Greece.
He founded a church in Constantinople.
Place and manner of death:
There are 3 prominent suggestions.  One, in Patrae (Turkey) where he was hung alive on a cross and for 2 days exhorting the people but finally starving to death.  He had refused to sacrifi9ce to a heathen god and then severely scourged.  On the cross he was tied with cords, not using nails.  Tradition has it that the pro counsel's wife became a Christian as a result of Andrew.\
Two:  In Greece where he was bound and crucified.
Three:  In Russia where he was stoned and then crucified. The manner of crucifixion was that two ends of the cross were placed in the ground.  This has become known as "Andrew Cross"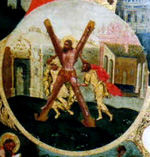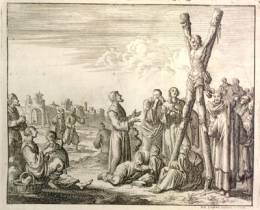 Interesting facts:
There is a 2nd century surviving fragment entitled: The Acts of St. Andrew.  One fragment tells John wrote his gospel in consequence of a revelation by Andrew.
Traditional comments:
.His remains were sent to Scotland. Andrew is the patron saint of Scotland.  It is said that when "the relics" were sent to Scotland there was a ship wreck and that place has become known as St. Andrews Bay.  The St. Andrew cross is on their flag.
Shields and emblems:

  This is know as the Andrew Cross – with two ends in the ground.