Calling Cards
Beverly Hills Baptist 2 – Birmingham, MI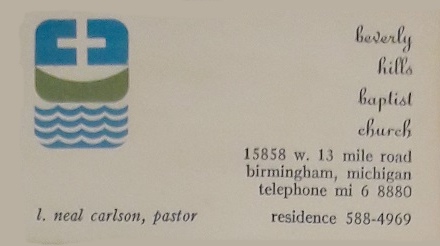 I served here from August 1964 to Mid April 1968.
As name reflects, my girl (wife) had boxes of hats and gloves. We could not afford
to live in the area, so bought a home 9 miles from the church. :)
My secretary was Miss Alice LePage, who prior to me was secretary to ?, Supreme Court in Michigan.
She taught me a lot, i.e. when walking caring a cup of coffee, DO NOT look at the cup, just keep your eyes ahead where you are going, otherwise you will compensate and end up spilling your drink. Baptized 13.