Neal Carlson lived with his wife Nancy, of 53 ½ years Between 2,000 and 2013 they lived in a small seacoast town in Central California, USA called Cayucos. After his wife "graduated" to Heaven (August, 2013) he now lives 5 miles south in a small sea coast town called Morro Bay, California. The town is located on Hwy 1 roughly half way between San Francisco and Los Angeles. Calif. USA.
He was born in Memphis, Tennessee, April 27, l934 and at age 9 moved with his parents to the southern state of Louisiana where he was raised in the city of Shreveport. He graduated from Byrd High School there in 1952.
He holds a B.A. degree from Louisiana College (1956), a Master of Divinity from the New Orleans Baptist Theological Seminary (1960) and a Doctorate from California Graduate School of Theology (1971).
At age 19 he responded to the call from God to the ministry and within months was called to his first church as pastor, the Jacoby Baptist Church, Lettsworth, Louisiana. He celebrated 50 years in the ministry, April, 2003.
At the graduate school in New Orleans, l959, he met his wife to be, NANCY JANE DuBOIS from Kirkwood, (St. Louis) Missouri. She was working on her Masters in religious education.
Together they pastored:
Bridge City Baptist Church - greater New Orleans, La.
First Baptist Church - Plano, Illinois
Beverly Hills Baptist Church - greater Detroit, Michigan
American Baptist Church - Ridgecrest, California
Alvarado Baptist Church - San Diego, California
And 28 1/2 years - COMMUNITY CHURCH FELLOWSHIP King City, California until December 31, 2000.

Currently he is president of FOUNDATION FOR LIVING, Inc. which he founded in 1972 and pastor of THE CHURCH IN THE SON (the internet ministry)

They have 5 grown children: Robyn Lynn, Kenneth Neal, Darrin Neal, Bryan Neal and Jody Lynn who on August 10, 2011 went to live with Jesus.

They have 12 grandchildren and 3 great-grandchildren.
Pastor Neal has shepherded a series of congregations in his 64 years of ministry. Being called to ministry has resulted in a number of "Calling Cards."
Some of these calling cards have stories behind them. We've gathered them for you to enjoy. Click on each card to view.
Beverly Hills Baptist 1 – Birmingham, MI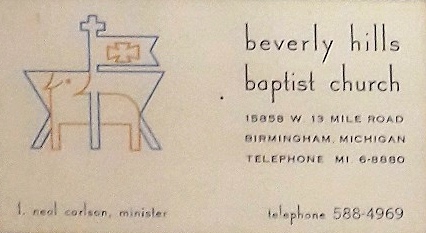 I served here from August 1964 to Mid April 1968.
As name reflects, my girl (wife) had boxes of hats and gloves. We could not afford
to live in the area, so bought a home 9 miles from the church. :)
My secretary was Miss Alice LePage, who prior to me was secretary to ?, Supreme Court in Michigan.
She taught me a lot, i.e. when walking caring a cup of coffee, DO NOT look at the cup, just keep your eyes ahead where you are going, otherwise you will compensate and end up spilling your drink. Baptized 13.
Select another card